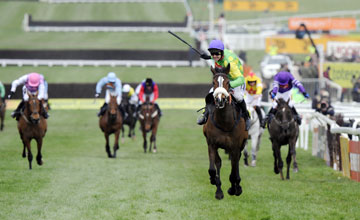 The 81st running of this prestigious horserace featured something of a grudge match between the Paul Nicholls trained pair – Kauto Star, ridden by Ruby Walsh and Denman, last year's Gold Cup champion ridden by Sam Thomas. Both 9 year old geldings were much fancied, but it was Kauto Star who was the bookies' 7-4 favourite going into this 22 fence spectacle.
Denman Heart Problems
The Paul Barber-owned Denman was a 7-1 shot, despite winning the race just 12 months ago, but after some well-publicised heart problems that required surgery, was not seen as a particularly safe bet. Denman's only race that season had been at Haydock and had not shown anything like the form that led him to Gold Cup success in 2008.
Early stages
Another of Paul Nicholls' stable mates, Neptune Collonges lead the field for the majority of the race. However, the competition became more serious approaching the final turn as Denman and Kauto Star drew level with the Christian Williams mount and heading over the third fence from home, overtook him, looking full of energy.
Once he had hit the front, there was no stopping Ruby Walsh, who simply was not going to let anyone pass him, romping away to a 13 length victory over Denman in 2nd. In doing so, he had gained revenge for the reversal he suffered in 2008 and also had become the first ever to regain the Cheltenham Gold Cup after having lost the crown.
Ruby Walsh Delight
Having looked like a different proposition to the pairing that came second so agonisingly in 2008. Ruby Walsh and Kauto Star looked confident throughout. He hadn't felt totally confident despite the appearance, as he revealed after the race:
"When Sam Thomas (on Denman) moved up alongside me, I didn't know what was going to happen off the bend. But in all fairness to him he has picked up, winged the second-last and galloped all the way to the line".
Walsh rated Kauto Star very highly:
"He's the greatest horse I've ever ridden. Two miles, three miles, now two Gold Cups. He's magic, he's a wonder horse."
Incredible Race for Trainer, Nicholls
Having had an amazing 1-2-3 in last year's Cheltenham Gold Cup, Paul Nicholls achieved a similar feat in 2009, training 4 of out of the first 5 horses across the line, with the only exception being Exotic Dancer, who came in third at 12-1 ridden by A.P. McCoy.
Owner, Clive Smith couldn't believe his luck, as this was his second big win of the week, having already bagged the Champion Chase with Master Minded, adding:
"I'm staggered. What a wonderful run. The best he's ever run I think. I can't believe it".
The 2010 Decider?
Having experienced a year plagued with health problems, Denman had done well to place 2nd in this years race. With another good year behind him, we were perhaps looking at a decider next year between him and Kauto Star with the current standings at one Gold Cup win apiece.
No doubt, the 2010 Cheltenham Gold Cup would be every bit as exciting as this one. Denman or Kauto Star? Injuries and form allowing, it was going to be one hell of a rematch.