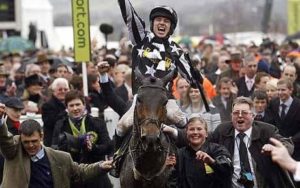 This race was billed as the third part of the battle of Gold Cup champions – Ruby Walsh on two-time winner Kauto Star and 2008 champion, Denman, this time ridden by Tony McCoy.
Kauto Star was the punter's favourite going into the race.
Early Drama
The Paul Nicholls-trained Kauto Star made heavy running of the early stages of the race and almost paid the price of some badly timed jumping when he narrowly missed falling at the 8th fence. Only a miraculous recovery by Ruby Walsh kept the horse in the race, but he lost a few lengths on the leaders in the process.
Jostling for Position
Midway through this 22 fence race, it was Carruthers, the 33-1 shot, ridden by Mattie Batchelor that was heading the field, tracked closely by Denman. As the chase for the line gathered pace, the leading pack included Carruthers, Imperial Commander, Denman and Kauto Star who was beginning to labour.
Kauto Star Falls
Having struggled for much of the race, the 8-11 favourite's luck ran out, as both horse and rider hit the floor at the 19th fence. Walsh had been trying to get more and more out of the pre-race favourite to keep up with the pace, but it was all in vain, as his mount just didn't have enough to challenge.
Race for the Line
Denman, Carruthers and Imperial Commander were neck and neck, as they raced down the hill towards to the awaiting crowd. For a moment, Denman looked like he might avenge his defeat to Kauto Star, as he looked strong over the final fences.
However, it was Imperial Commander who had the most to offer, hitting the front 3 out as Paddy Brennan guided the Twiston-Davies trained horse to a Gold Cup win by 7 lengths over Denman in 2nd. The front two were well clear of the rest, as Grand National winner Mon Mome trailed in 3rd, a full 23 lengths behind.
Jockey Brennan was on cloud nine after clinching the crown and the £270k in the process:
"It's by far the best day of my life. I'm speechless. It was a dream the whole way".
Owner, Nigel Twiston-Davies was always confident going into the race, claiming that most couldn't see past Kauto Star and Denman:
"It's just absolutely brilliant. It's been very hard for us sat there with the third-favourite, when all the talk was about Kauto and Denman, but we always knew we were going to win".
Ruby Walsh and Kauto Star would live to fight another day, as both were mercifully seen cantering back to the paddock, but this day firmly belonged to Imperial Commander and Paddy Brennan.