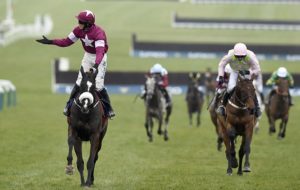 The pre-race 9-4 favourite, Don Cossack, ridden by Bryan Cooper and owned by W B Connors sprinted away at the last fence, to leave Djakadam 4½ lengths behind in the runner's up spot for the second year running. Davy Russell, who steered Lord Windermere to 2004 Gold Cup victory came in a distant third on Don Poli, a full 10 lengths behind 2nd place.
The horse was part of a clean sweep for Ireland, as the first 4 across the were trained by Gordon Elliott, Willie Mullins and John Kiely respectively.
2007 Grand National Winner
This was a maiden Cheltenham Gold Cup for Gordon Elliott who trained the 2007 Grand National winner, Silver Birch
Tough Choice
Bryan Cooper, the 23 year old irish jockey from Kerry had a real quandary going into the race, as he had been set to ride 7 year old Don Poli, the mount he is retained to ride for the Gigginstown House Stud. He chose instead to ride 9 year old stablemate, Don Cossack, which it turned out, was a rather savvy move.
Speaking after the race, Cooper spoke affectionately about Gordon Elliott and late trainer Dessie Hughes, the trainer with whom he started his career:
"It was a hard decision to make, but there's a man up there looking out for me, Dessie Hughes.
Fair play to Gordon, he stuck by me. I had the hardest decision and he had him right for today. He never missed a beat."
Horse Fatalities to be Investigated
2016 had witnessed a wonderful Cheltenham Festival, but some of the sheen had been taken off it after the unfortunate demise of 7 horses across the 4 days of the meeting. Rezorbi, Pont Alexandre and Govaness had all died on the opening day and No More Heroes had been put to sleep after tendon damage on the Wednesday.
Thursday then saw Niceonefrankie perish after a fall in the Stable Plate Race, with Friday seeing Montdragon and Long Dog passing away on the final day of the festival.
These fatalities are being looked into by the British HorseRacing Authority, attempting everything they can to avoid a repeat next year.
Chief BHA veterinary officer, Jenny Hall spoke on the subject:
"We will work with Cheltenham to assess all of the incidents that took place this week. We have a good relationship with the RSPCA and World Horse Welfare, and, as always, we will work with them to ensure we continue we do all we can to make racing as safe as possible."
All things considered, it had been a great festival and another wonderful, unpredictable Timico Gold Cup chase. A great festival for the irish for sure and in particular Don Cossack, Bryan Cooper and trainer Gordon Elliott.