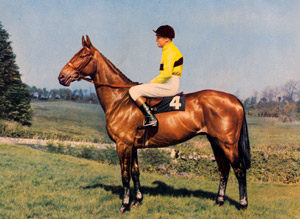 Over five decades have passed since Arkle beat Dormant by 30 lengths to win his third Cheltenham Gold Cup, but he remains the yardstick by which all National Hunt horses, especially steeplechasers, are measured. His remarkable Timeform of 212 – 30lb superior to that of Best Mate, the only other horse since 1966 to win the Cheltenham Gold Cup three times – has rightly been questioned in recent years. However, as jockey Ruby Walsh said, "Ratings are only people's opinions", and the general opinion is that Arkle is the foremost steeplechaser in the history of National Hunt racing.
Owned by Anne, Duchess of Westminster, trained by Tom Dreaper and ridden by Pat Taafe, Arkle not only won the Cheltenham Gold Cup in three successive years, but the King George VI Chase, the Irish Grand National, the Hennessy Gold Cup (twice), the Whitbread Gold Cup and a further 14 of his 26 races over fences. Perhaps his defining moment came in the Gallaher Gold Cup in 1965 when, carrying 12st 7lb, he beat Rondetto by 20 lengths, conceding 26lb. Rondetto had previously won the Festival Trophy Handicap Chase at the Cheltenham under 11st 10lb, so he was no slouch. The race time, 17 seconds faster than the previous course record, has yet to be surpassed in 50 years. According to the Sporting Life, "there never was such a day and no one present will ever forget the experience".
Unfortunately, Arkle was to run his last race in the King George VI in 1966, during which he fractured the large bone in his foot, known as the pedal bone, but still finished second, beaten half a length. Despite initial optimism about his injury, Arkle was officially retired in 1968 and spent the rest of life at Bryanstown, Co. Kildare, a 700-acre estate belonging to his owner, where he was euthanised two years later after suffering crippling arthritis.
A true Cheltenham legend – phenomenon, wonder, call him what you will – the horse popularly known as 'Himself' is commemorated with statue overlooking the parade ring at Prestbury Park and his skeleton is on display at the Irish National Stud in Co. Kildare.