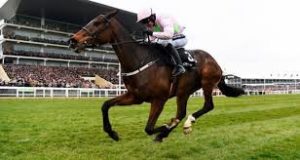 This Grade 1 race, with a distance of 2 miles 5 furlongs over 17 fences on Turf, is for horses over 5 years old. Registered as the Festival Trophy Chase, but sponsored by Ryanair, the total prize money is £300,000, with the first prize winning fund at £148,070 in 2018. To be held on St Patrick's Thursday, at 14.50 GMT.
Since this Ryanair Chase was introduced in 2015 to the Cheltenham Festival, it appears to be a race for the punters, with 9 winners out of 12 coming from the top 3 in the betting stakes. This Chase is meant for competitors that normally find that any longer a distance than 2 miles and 5 furlongs is beyond their stamina proficiencies.
Recent winners of this Ryanair Chase have been Un De Sceaux -Willie Mullins at 7/4f in 2017, Vautour, again Willie Mullins at Evens in 2016 and Uxizandre by A King at 16/1 in the year 2015.
As with the other Day Three races, this one is also run on the New Course, and is a left handed race. With a weight restriction for horses aged 5 years of 11 stone 9lbs, and for horses aged over 6 years, 11 stone 10lbs, while Mares have a 7 lbs allowance.
The Irish connection to this race at Cheltenham, especially as its held on St Patrick's Day, proves that this Ryanair Chase, sponsored by this Irish company, is always a favourite with the punters.