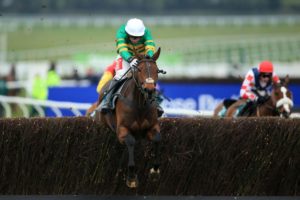 Previously run as the first race on day 2 of the Festival, this Amateur National Hunt Challenge Cup is now the second to last race on the meeting's day one. To be run on Tuesday 13th March 2018 at 4.50pm GMT. 2018 sees the Grade 2 race in its 145th year, ridden over a stamina draining four miles with fences, and intended for amateur riders and novice chasers only.
With many of the same horses entered jointly into the RSA Chase and this National Hunt Chase, betting can be quieter on this competition, although the punters will still be excited to see this race. Gordon Elliot has won two out of the last three races, so expectation is high that he will once again challenge for this year's win.
Favourite this year is Sutton Place, and although he is still young and inexperienced, he is a first rate horse, after winning five in a row before his lameness last season. Ballyoptic follows as second place favourite, after running several excellent races last season, all eyes will be on him in this national Hunt Challenge Cup at Cheltenham.
With an age limit to enter of 5 years and more, and a restriction to amateur riders and novice chasers only, it takes a very genuine horse with lots of stamina to win this race.