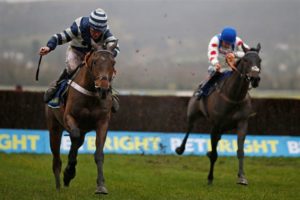 This Gold Cup Chase for novices is a Grade 1 race over 3 miles and 110 yards, scheduled to take place on Wednesday, 14th March 2018 at 14.10pm GMT. Run on the New Course at Cheltenham, this Chase is for horses over 5 years of age.
The 2017 RSA Chase was won by Might Bite, who went to victory over Whisper with Bellshill coming in third place. Number one favourite for the 2018 chase, is Monalee with Al Boum Photo a close second place.
This 3 mile race always proves a physical test of stamina, especially when it comes to the hill furlongs, particularly for the novice runners who have to tackle the nineteen fences. Previous talented novice winners include Arkle, Denman, Florida Pearl, and of course, Lord Windermere. It's not unusual to see horses suffer falls or even to drop out of this race. With an even spread of both British and Irish trained horses winning over the last 10 years, who will win this year's RSA Chase is anyone's guess.